Be local - How things are done in Denmark
History, culture, and guided tours in Denmark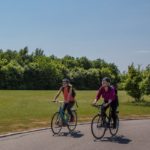 Knowing the history and culture of a local area, gives a good basis for understanding everyday life and the  local environment. We talk and read about places, people, and traditions. These courses are flexibly designed according to the interests of the individual. We use Danish or English, whichever suits best.
Be Local also offers guided tours designed to the individual giving insights into life in Denmark and local areas of interest.
Social onboarding
Be Local helps newcomers find communities fitting their interests. With our knowledge about Danish society, culture, and local opportunities, we can point to a broad range of activities and contacts in local areas. Soon it will be easy to participate in and contribute to local life.

It is important that both the individual and the whole family is thriving and feels at home on all levels, both professionally and personally. Based on experience and dialogue Be Local takes care of the challenges that newcomers may face.
Practical support
Be Local welcomes requests for practical support. Let's talk about how we can help with the practical aspects of arriving at and settling in Denmark.
Accessing digital services
Denmark is one of the most digitalized countries in the world. Much of Danish life is based on using digital services, for example to access health care, banking or even travel. Be Local can give newcomers peace of mind on how to use Denmark's digital services.